CONTACT INFO
ABOUT US
ORDER INFO
SPECIALS
FAQ
"BIRTHDAY GODDESS" PERSONALIZED
BALLOON WINE GLASS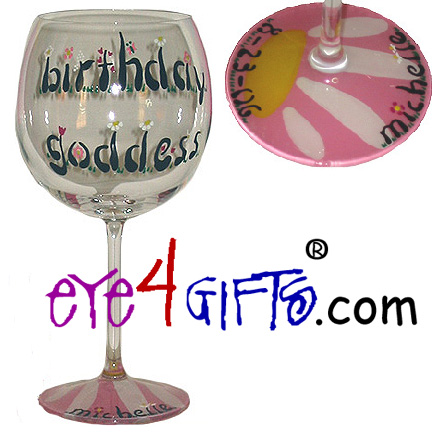 How much fun is this wine glass??? If you know a special Goddess who's having a birthday this glass makes the perfect gift! Here is a single 20 ounce balloon wine glass. "Birthday Goddess" is painted on the glass with little flowers all through the writing. There is another daisy on the base, with a pink background.
Personalized with the first name and date.
Have a question about placing or order? Prefer to order via phone? No problem!
We're here to help :) You may reach us at
301-412-3120
Studio Hours 10:00AM to 10:00PM Eastern


Copyright ©2000-2014 eye4gifts.com
This site and all the designs contained within are protected by copyright laws.
Reproduction of any kind will be prosecuted to the fullest extent of the law.
Hand painted martini glasses
Hand painted wine glasses
Hand painted cocktail glasses
Hand painted margarita glasses
Hand painted champagne flutes
Hand painted vase
Custom orders welcome!