CONTACT INFO
ABOUT US
ORDER INFO
SPECIALS
FAQ
CHAMPAGNE FLUTES
We've got that perfect champagne flute for your special day!
Whether wedding, anniversary, graduation or anything else.
The perfect bridesmaid gift! Imagine, a different pair for each attendant.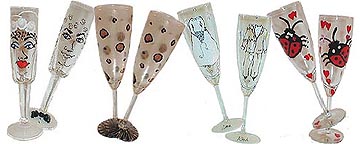 Still can't find the perfect glass?
Let us design a custom order just for you!

VIEW LARGER
"THE HAPPY COUPLE"
PERSONALIZED
Here is a pair of crystal champagne flutes. One flute is the bride & the other the groom. She has roses in her hair and a veil. She also wears pearls around her neck. He has a bow tie on his base. You tell us what color eyes and hair for each...
$75.00/pair


VIEW LARGER
"WEDDING FLUTES"
PERSONALIZED
Fabulous! Hand painted and personalized.! The lucky couple will receive this pair of 6 ounce 8 1/2 inch tall champagne flutes. The Bride's flute has a wedding gown, and the Groom's a tux. First names & wedding date on the base.
$55.00/pair


VIEW LARGER
"RAINBOW BRIDES & GROOMS"
PERSONALIZED
Looking for the perfect gift for two brides, two grooms or any combination of two?
Here they are! Each is a 6 ounce champagne flute with either "BRIDE" or "GROOM" painted in rainbow colors vertically up one side of the glass. The base is painted purple and personalized with a first name and the special date.
$33.00/flute


VIEW LARGER
"CLASS OF..." GRADUATION FLUTE
PERSONALIZED
Here is a single 6 ounce, 8 1/2 inch tall champagne flute. "Class of" is painted on one side of the flute with the year in long hand painted out opposite. Your favorite grad's full name is painted on the base. Silver and white polka dots all over the glass, stem and base.
$29.00/glass


VIEW LARGER
"BRIDAL PARTY"
PERSONALIZED
A fun "title" painted vertically on the front. The "Bride" glass has a veil opposite, the "Groom" has a top hat. The "Maid of Honor" & "Bridesmaid" glasses have a bouquet. The "Best Man" & "Groomsman" have bow ties. You choose two (2) colors for each glass :)
$29.00/glass


VIEW LARGER
"CONJUGAL BLISS"
A Chinese Idiom by Pinyin painted in silver down the front of each glass. The translation is painted on the bottom of each base, "Live to ripe old age in conjugal bliss; remain a devoted couple to the end of their lives." Both bases are painted silver.
$60.00/pair


VIEW LARGER
"THE WILD SIDE"
Here is a pair of 6 ounce champagne flutes. Each glass is lightly 'dusted' with gold and is covered in black and brown leopard spots. The bases are painted silver and are covered in black tiger stripes.
$60.00/pair


VIEW LARGER

"MR. & MRS. LADYBUG"
A pair of 6oz. champagne. Each flute has a single bright red and black ladybug. A boy bug complete with white tie & cuffs and a girl ladybug with a fuchsia bow, nails, eyelashes & red lips. There are small red hearts around each glass & a single heart on each base.
$55.00/pair



Copyright ©2000-2014 eye4gifts.com
This site and all the designs contained within are protected by copyright laws.
Reproduction of any kind will be prosecuted to the fullest extent of the law.
Hand painted martini glasses
Hand painted wine glasses
Hand painted cocktail glasses
Hand painted margarita glasses
Hand painted champagne flutes
Hand painted vase
Custom orders welcome!