CONTACT INFO
ABOUT US
ORDER INFO
SPECIALS
FAQ
"FAMILY FUN VASE"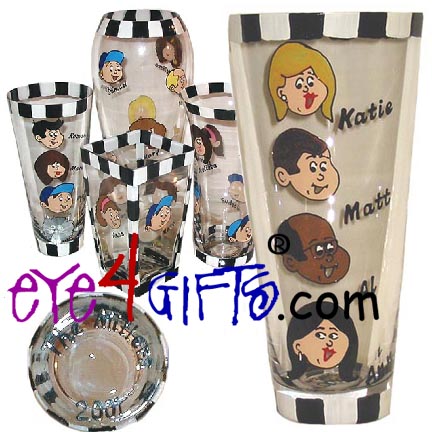 As seen on The Today Show!
The perfect gift for any occasion! Just what every mother and grandmother want. Why not give them a hand painted vase personalized with all their family members! Right down to the family pet :) Wonderful to use only children or grandchildren as well! You tell us what hair colors and length, children or adults, glasses, facial hair and names. Each vase is different, but all are heavy glass. The artist chooses the vase (shape and size) that works best with the number of family members to be painted. All vases are bordered in black and white stripes. The family name and current year will be painted on the bottom of each vase.

*African American and Asian version available!
$109.00/for up to 6 family members
$5.00 /each additional member

Please fill in the below form to personalize your vase:
Please fill in requested information, then hit "Submit"
You will be asked to add your item to our shopping cart after you've filled in the below form,
and clicked the "submit" button.
If you have more than 12 family members (including pets) please contact us prior to placing your order.
Have a question about placing or order? Prefer to order via phone? No problem!
We're here to help :) You may reach us at
301-412-3120
Studio Hours 10:00AM to 10:00PM Eastern


Copyright ©2000-2014 eye4gifts.com
This site and all the designs contained within are protected by copyright laws.
Reproduction of any kind will be prosecuted to the fullest extent of the law.
Hand painted martini glasses
Hand painted wine glasses
Hand painted cocktail glasses
Hand painted margarita glasses
Hand painted champagne flutes
Hand painted vase
Custom orders welcome!