CONTACT INFO
ABOUT US
ORDER INFO
SPECIALS
FAQ
"FRIENDSHIP ON FIRE" TRUMPET FLUTE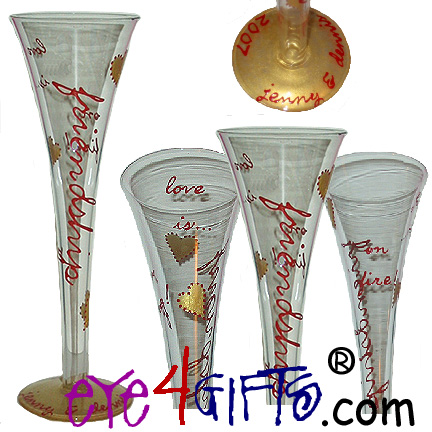 The perfect way to say "I love you!" Here is a single trumpet flute.
"Love is friendship in fire" is painted around the flute along with several gold hearts.
The base is personalized with first names and a year.


Copyright ©2000-2013 eye4gifts.com
This site and all the designs contained within are protected by copyright laws.
Reproduction of any kind will be prosecuted to the fullest extent of the law.
Hand painted martini glasses
Hand painted wine glasses
Hand painted cocktail glasses
Hand painted margarita glasses
Hand painted champagne flutes
Hand painted vase
Custom orders welcome!