CONTACT INFO
ABOUT US
ORDER INFO
SPECIALS
FAQ
"KING & QUEEN OF CHRISTMAS"
BALLOON WINE GLASSES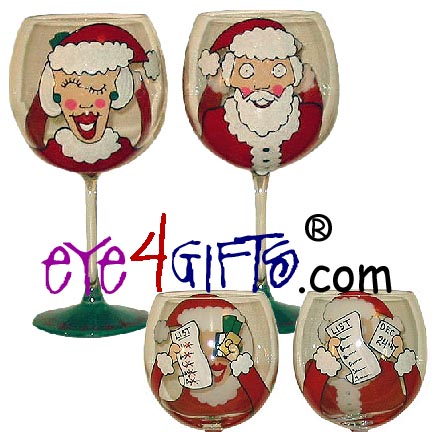 The perfect gift for this Christmas season! Both are wearing Santa hats and suits. The "Queen of Christmas" is all shopped out and ready! It's the day before Christmas and the "King" hasn't yet crossed anyone off his list :( She's a happy camper, and he has that "deer in the headlights" look. Both hold shopping lists, she's holding credit cards and cash, and he's holding a calendar page. White hair and green bases for each. Her base reads, "Ho Ho, Ho Ho...it's to the mall I go!" His base reads, "Ho Ho, Uh Oh...only one day to go!" Purchase them separately, or save $5.00 and buy the pair! Painted on our large 20 ounce balloon wine glass.
$39.00/glass

$75.00/set of two

Have a question about placing or order? Prefer to order via phone? No problem!
We're here to help :) You may reach us at
301-412-3120
Studio Hours 10:00AM to 10:00PM Eastern


Copyright ©2000-2014 eye4gifts.com
This site and all the designs contained within are protected by copyright laws.
Reproduction of any kind will be prosecuted to the fullest extent of the law.
Hand painted martini glasses
Hand painted wine glasses
Hand painted cocktail glasses
Hand painted margarita glasses
Hand painted champagne flutes
Hand painted vase
Custom orders welcome!